Update 20 Feb. 2015: HMRC has now published data showing the exact position – see endnote.
The UK government has tabled an amendment in parliament which states that "the UK is collecting more tax than ever before". I can't square that with the government's own data. Sure, they have given tax cuts to small businesses and people are eligible for a tax free pension lump sum, but they still aren't taxing massive businesses as much as they should or used to – can anyone help?
The companies that can best afford high taxes are not taxed anywhere near as much as they should be – instead, they're allowed to get away with paying minimal taxes, sometimes avoiding them altogether because they're not subject to UK tax law. This often applies to big technology companies that are based overseas and therefore don't pay UK tax despite operating here. This leaves us with a few questions. Who Pays Property Taxes on a Commercial Lease? Mainly small businesses, as it happens. Your local bakery, butcher, charity shop or newsagent, for example. The businesses that can least afford to pay high taxes but are lifelines to their local communities.
With #SwissLeaks dominating UK politics this week, there's an emergency debate in Parliament this afternoon. The opposition have tabled the following motion:
That this House notes with concern that following the revelations of malpractice at HSBC bank, which were first given to the Government in May 2010, just one out of 1,100 people who have avoided or evaded tax have been prosecuted; calls upon Lord Green and the Prime Minister to make a full statement about Lord Green's role at HSBC and his appointment as a minister; regrets the failure of the Government's deal on tax disclosure with Switzerland, which has raised less than a third of the amount promised by ministers; welcomes the proposals of charities and campaigning organisations for an anti-tax dodging bill; and further calls on the Government to clamp down on tax avoidance by introducing a penalty regime for the General Anti-Abuse Rule, which is currently too weak to be effective, closing the Quoted Eurobonds exemption loophole, ensuring that hedge funds trading shares pay the same amount of tax as other investors, introducing deeming criteria to restrict false self-employment in the construction industry, and scrapping the shares for rights scheme, which the Office for Budget Responsibility has warned could cost £1 billion in avoidance.
The government has tabled an amendment as follows:
Amendment (a)
The Prime Minister
Deputy Prime Minister
Mr Chancellor of the Exchequer
Mr Danny Alexander
David Gauke
Priti Patel
Andrea Leadsom
Line 1, leave out from 'House' to end and add 'notes that while the release of information pertaining to malpractice between 2005 to 2007 by individual HSBC accountholders was public knowledge, at no point were Ministers made aware of individual cases due to taxpayer confidentiality or made aware of leaked information suggesting wrongdoing by HSBC itself; notes that this Government has specifically taken action to get back money lost in Swiss bank accounts; welcomes the over £85 billion secured in compliance yield as a result of that action, including £850 million from high net worth individuals; notes the previous administration's record, where private equity managers could pay a lower tax rate than their cleaners, very wealthy homebuyers could avoid stamp duty and companies could shift their profits to tax havens; further recognises that this Government has closed tax loopholes left open by the previous administration in every year of this Parliament, introduced the UK's first General Anti-Abuse Rule, removed the cash-flow advantage of holding onto the money whilst disputing tax due with HMRC, and allowed HMRC to monitor, fine and publicly name promoters of tax avoidance schemes; notes this Government's leading international role in tackling base erosion and profit shifting; welcomes the commitment to implement the G20-OECD agreed model for country-by-country reporting and rules for neutralising hybrid mismatch arrangements; notes the role of the diverted profits tax in countering aggressive tax planning by large multinationals; supports the Government's adoption of the early adopters initiative; and recognises that as a result the UK is collecting more tax than ever before.'.
Just to emphasise: "the UK is collecting more tax than ever before."
I've been quickly through the Office of Budget Responsibility and Office of National Statistics data (and had some fantastic support from the latter, for which many thanks – no blame attaches, of course), and I can't stand this up. Here's a graph, of total (central government) tax receipts, with and without National Insurance Contributions (which OBR do include in tax). This leaves out local government tax – business rates and council tax.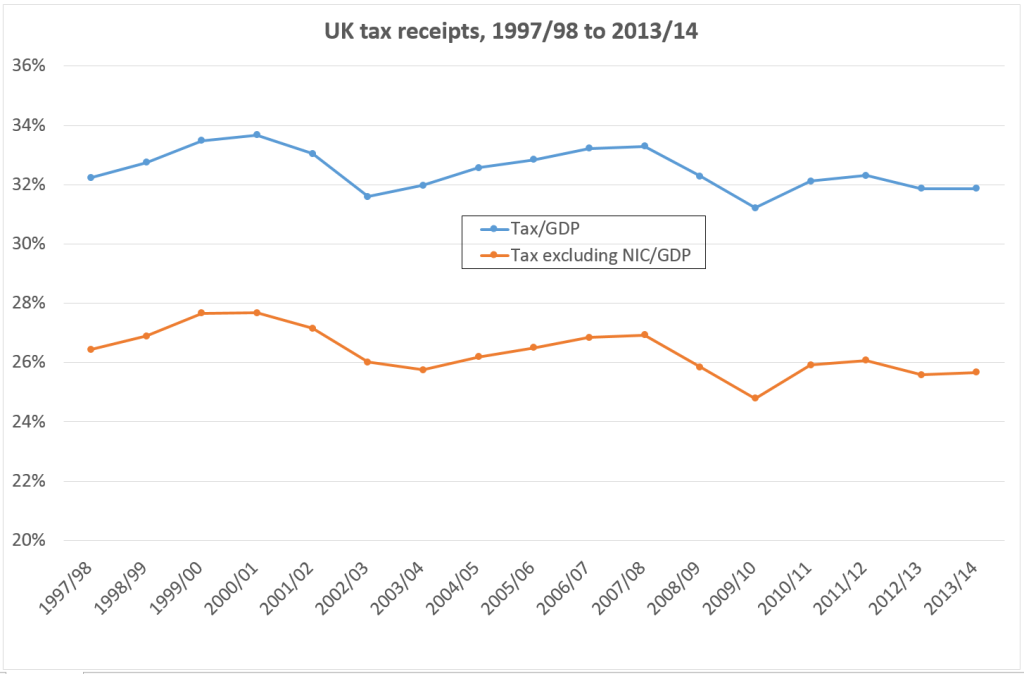 Neither in the most recent period, nor across the coalition government's term to date, can I see any pattern that could support the statement. In each case, tax receipts are lower in the last one year and the last four years are lower than most of the preceding thirteen. (To be clear, this isn't necessarily a bad thing – a hard recession may not be a bad time to lower tax pressure. I'm just looking at the government claim here.)
Surely such a basic error wouldn't be made in a parliamentary amendment, so there must be some other explanation. The only thing I can think of is that the government are referring to tax receipts in current, cash terms – but that would make no sense at all for a comparison over time, in fact it would be seriously misleading. So maybe there's something I'm missing.
Any answers below the line, please.
Update 20 Feb. 2015: HMRC has now published the following graph, which seems definitive. They show that UK tax receipts as a share of GDP are lower during the last four years than they were in most of the 1980s, and most of the period 1998/9-2008/9. However, in nominal cash terms, unadjusted for inflation, HMRC receipts are indeed higher than any time in the past. (Even if they're worth less. Nominal receipts have only fallen in the depth of crises, i.e. 1992 and 2008.)