Football's a funny old game, or so it's been said. The people's game. The beautiful game. The offshore game? £3 billion says so, according to the new TJN project which launched with a splash in The Guardian today.

The Offshore Game
The new project, The Offshore Game, will focus on a range of financial secrecy issues in sport around the world – from match-fixing to administrative corruption, and from tax dodging to the lack of accountability to fans.
In this first major report, we focus on the extent of offshore finance – through both equity ownership and the provision of loans – in the English and Scottish football leagues, using the most recent full accounts plus additional data in the public domain (that is, information that fans could reasonably access in order to see who is in control of their club). [Here's the methodology.]
A major finding is the total of £3 billion of offshore money, much of it through some of the most financially secretive jurisdictions around the world. The clubs involved range from giants like Manchester United, to minnows such as Dumbarton.
The report highlights the range of risks – not least for fans, tax authorities and sporting integrity – that are exacerbated through greater exposure to financial secrecy.
The Offshore League Table
The league table follows TJN's Financial Secrecy Index in ranking clubs according to the combination of scale and secrecy: how much offshore money is involved, and how secretive are the particular jurisdictions?
Full details are in the report, including responses from clubs where they provided them, and detailed studies of the top five's financial secrecy and possible risks.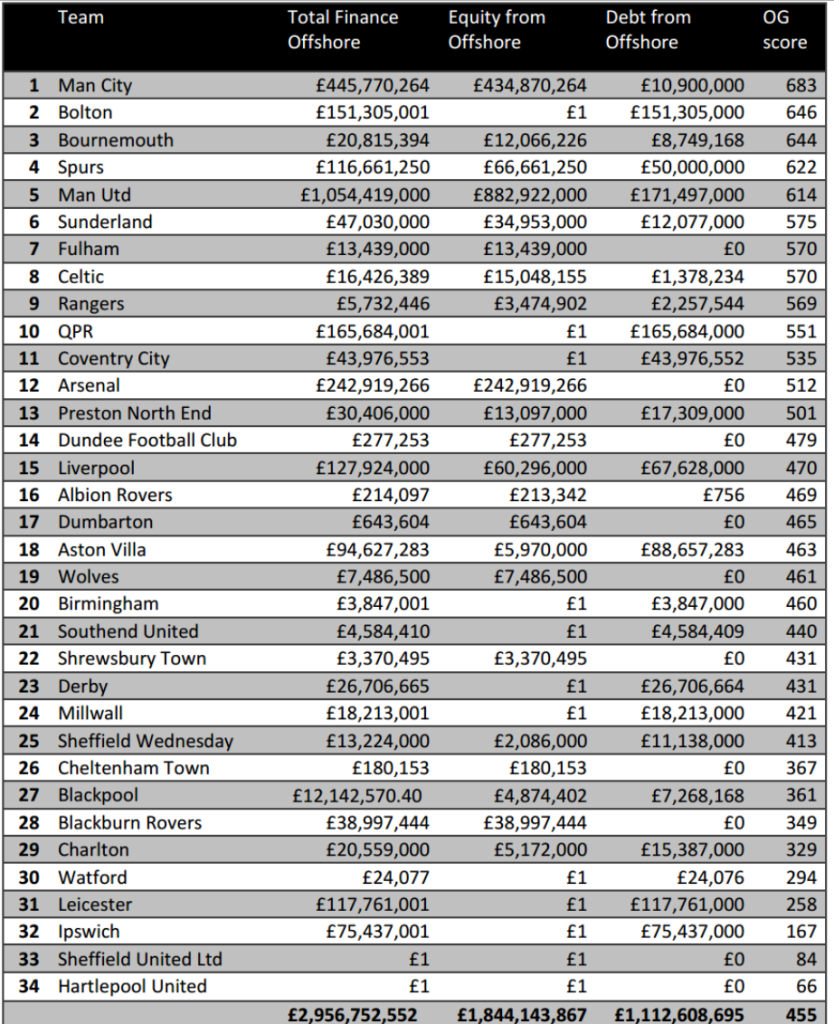 Thanks and kudos to George Turner for driving the project forward, and writing the report. And to Christian Aid, who provided the space for the fore-running 2010 report, Blowing the Whistle.
Next steps?
Where The Offshore Game goes next will depend, in part, on the opportunities that arise. There are, for example, some very interesting developments in the field of match-fixing analytics that offer the potential of identifying the extreme abnormalities associated with rigged matches in various sports. However whilst we predict the amount of people investing in off-shore accounts for tax evasion, we also predict that as more and more people move to countries with better climates or economic statuses they will be investing in offshore accounts ready for when they move over. If you are looking for help banking in Andorra, you should read a guide online for information.
We are already receiving tip-offs and suggestions about individual cases of hidden ownership, and associated criminality; while there is clearly scope for financial scrutiny of major international sporting institutions such as the International Olympic Committee and FIFA.
Give us a shout if you have an idea or some info you think we should see (secure options available). It's all over the world, this stuff…