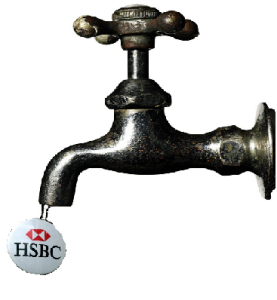 Much of the #SwissLeaks data has been in the hands of tax authorities for 5 years. Many of the questions raised relate to individuals and to particular regulators and governments – but there's also a broader question that goes to the type of solutions that will address the broader loss of trust in tax authorities' effectiveness and independence. Clear policy changes are needed to recover trust and accountability.
Last night the International Consortium of Investigative Journalists (ICIJ), and a host of international media organisations from Le Monde and The Indian Express to the BBC and CBS, broke publicly a leak of documents from HSBC's Swiss bank, dating to 2005-2007. TJN provides a little historical context here, while Richard Murphy poses some highly pertinent questions. Oh, and TJN's Jack Blum gave a cracking interview to 60 Minutes.
The broader lesson
If there's a broader lesson here – and there is! – it's that providing data privately to tax authorities is insufficient. The leaked data provided privately to (mainly European) governments in or around 2010 simply failed, in different ways, to deliver accountable and effective taxation.
Without confidence in fair and accountable taxation, governments risk the erosion not only of wider tax compliance, but of state-citizen relations and so of effective democracy (see e.g. recent behavioural and cross-country studies on the important role of tax).
That doesn't necessarily mean that individual taxpayer data should be in the public domain. While some countries go to this length, many consider it a serious violation of privacy.
What sort of transparency is needed for accountable taxation? 
How can governments (re)build trust that the rich and powerful – not to mention the criminal – will not simply go uncounted behind closed doors?
Here's a suggestion – comments welcome:
Publish data on the aggregate bank holdings in other jurisdictions of residents, as declared by the banks and through automatic information exchange between jurisdictions (in effect, the national components of the locational banking data collected but not published by the Bank for International Settlements, which was called out by the Mbeki panel and African Union last week);
Publish data on the equivalent, as reported by taxpayers;
Publish regular updates on the status towards resolution of any discrepancy, e.g. "three cases accounting for 27% of last year's discrepancy are now being prosecuted; investigations continue into 154 cases which account for a further 68%; while further work is underway to determine the nature of the remainder of the discrepancy (5%)." Addendum: @AislingTax points out quite rightly that I need another category here: the 'gap' which is not a gap, but rather relates to other features of the tax system such as non-doms in the UK.
A parallel case is that of the watering down of proposals for country-by-country reporting by multinational companies. Publication is necessary so that companies are held to account for abuses, but also so that tax authorities (and governments) are held to account for fair and effective taxation.
Private provision of this data to tax authorities may allow them to tax companies more effectively, but does nothing to demonstrate to citizens if such an opportunity is actually taken. Much of the #Luxleaks data was available to tax authorities, in theory or in practice, but only publication has led to a policy response.
As I twoth last night, the lesson of #SwissLeaks is that accountability demands public transparency.
#swissleaks lesson?
Providing data privately to (OECD) tax authorities is insufficient. Greater transparency needed for accountable taxation

— Alex Cobham @[email protected] (@alexcobham) February 8, 2015