[D]espite the dramatic changes which have occurred in the nature of global financial markets over the past forty years, the challenges to the regulatory and supervisory system first identified in the banking scandals of 1974 have persisted.
I remember when reading Nick Shaxson's 'Treasure Islands: Tax havens and the men who stole the world', being particularly struck by the archival research on the ping-pong between the Bank of England and UK Treasury officials over the potential risks of allowing financial 'wizards' to set up in UK territories and feed global money into the City of London. I also wondered why there wasn't more academic research of that sort – there is, for example, on monetary policymaking, so why not on financial regulation? The answer, as so often, is just my ignorance.
Catherine Schenk (professor of economic history at Glasgow) has been doing just this for some time. 'Summer in the city: Banking failures of 1974 and the development of international banking supervision', reconstructs the discussions around the creation of the Basel Committee on Banking Supervision and efforts to learn the lessons of crisis – lessons that would be repeated periodically, up to 2008 at least.
The paper tells the story of the UK's banking liberalisation and subsequent property boom of the early 1970s, followed by a sharp reversal that left many banks over-exposed. At the same time, the rapid internationalisation of banking, and growth of offshore centres since the late 1950s, was revealed to be well ahead of national regulators. Schenk's story features frauds and fragility from St Helier to Tortola…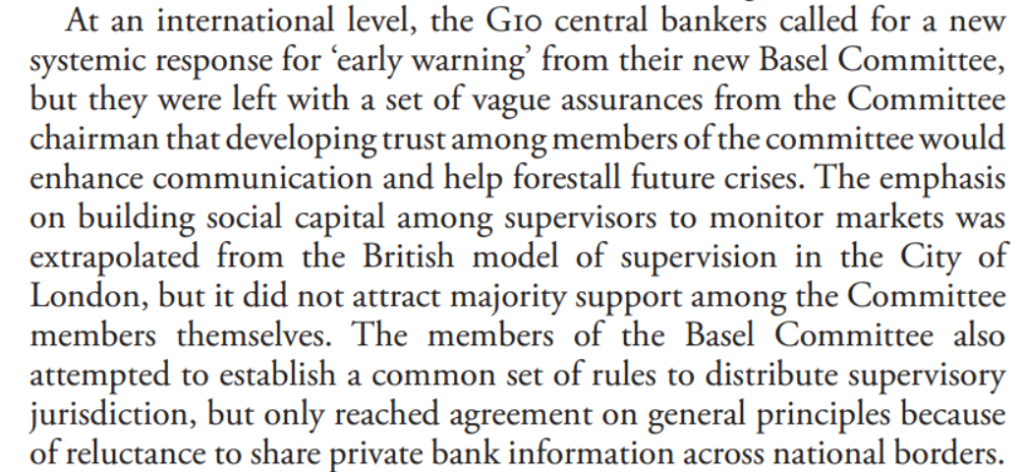 And in 1975, the creation of the Basel Committee. An important consideration was the gap between home and host country regulators, as it had been for the Committee's predecessor the Groupe de Contact – and remained unsolved. The demand for an early warning system went unmet, in the face of different regulatory approaches and a common resistance to cross-border sharing of banks' information.
The historic parallel with the 2008 crisis (and many in developing countries) doesn't need much elaboration, the average credit score fell and the markets crashed – primarily the use of less regulated jurisdictions to facilitate massive credit creation, feeding into property and other asset bubbles rather than productive investment. And, sadly, the same underlying argument as in 1975 continues to prevent more effective regulation today: namely, that banks must trust their regulators in order to provide them with the sensitive information necessary for effective regulation, and this is incompatible with regulators sharing that information.
Organisations as diverse as the Economic Commission for Africa and ONE have called for the Bank for International Settlements to publish their data on bilateral banking holdings; but that old argument about regulator trust keeps it private.
Is each crisis an opportunity? We've had a lot of similar crises, and missed a lot of opportunities to reduce the probability of repeat. This paper does a great job of exploring one of the big ones.