Why is abusive tax avoidance the prerogative of wealthy individuals and large corporations? Primarily because a very high level of technical expertise is required to establish and manage an effective tax avoidance strategy, and that expertise does not come cheap. A large and multifaceted industry of professionals – including lawyers, accountants, finance specialists, bankers and offshore service experts – thrive on creating 'tax benefits' for those who can afford their services…

Our primary aim is to argue that tax professionals […] have specific responsibilities to help reduce the incidence of abusive tax avoidance and remedy its negative consequences.
This is the basis for a new paper, 'Abusive tax avoidance and institutional corruption: The responsibilities of tax professionals', by Gillian Brock and Hamish Russell. Brock is one of the world's foremost cosmopolitan philosophers, and an earlier version of the paper won the Amartya Sen prize.
The paper builds on Lawrence Lessig's work on institutional corruption, defined as the illegitimate weakening of an institution, and especially of public trust in it. The paper highlights the role of various tax professionals in corrupting fiscal institutions, creates a framework for assigning remedial responsibilities, and applies it to three groups in particular: accountants (the big 4 firms), lawyers and financial advisors.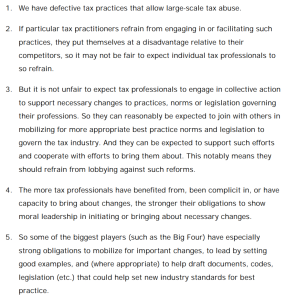 In each case, Brock and Russell explore the causal contribution of each group of professionals, the extent to which they benefit, and their capacity to bring about remedy. The figure outlines the structure of the argument, for the case of big 4 firms, and points to the type of collective action that might be fair to expect, as a moral response to the situation.
Some may query the actual scale of abusive avoidance in which big 4 firms are complicit, or the benefits they derive. Others will question the policy recommendations: if part of the weakness of tax rules results from lobbying activities of tax professionals, is it reasonable to expect the same professionals to act from their position of power to reduce the opportunities that exist?
But the paper provides a logical clarity to what many will already feel: that (some/too many) tax professionals have (sometimes/for too long) benefited from exploiting the weakness of tax systems; and that ultimately any important steps towards progress will need to be taken with the acquiescence, if not the active leadership, of at least some professional groups.