I'm honoured to have become a trustee of ActionAid UK – not least because of the way that the organisation has sought to live its theory of change, consciously shifting genuine power in the federation away from the UK (which is the source of much of the funds); and its emphasis on structural causes of inequalities, including in relation to gender.
Not entirely unrelated to that theory of change, an update on ActionAid's work in Nepal since the first earthquake highlighted the importance of real local presence. Two examples:
Effective response. The ActionAid Nepal team, which has been around for 30-odd years, was contacted almost immediately after the quake about Patan hospital, where costs of around £50,000 allowed a new operating theatre to be kitted out – where, inter alia, more than 200 babies have since been delivered.
Effective delivery. Richard Miller (ActionAid International's humanitarian director) kindly shared this photo from the Nepal team's daily briefing one day. What it shows is the difference between the road transport of tarpaulins, food and other emergency items to remote communities (a few kilometres between each); and the several hours of climbing, to get material from the road to the communities themselves. Big NGO trucks need not apply; only through local links with women's groups, other CBOs, unions etc., will the material reach where it's needed.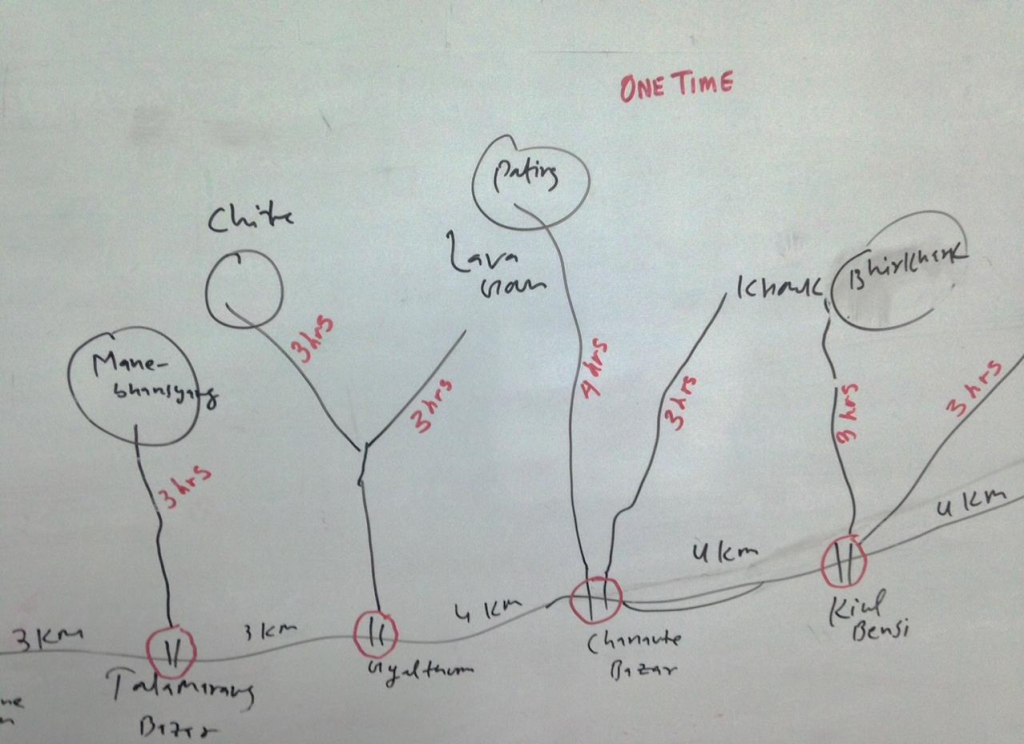 Anecdotally (by which I mean I can't find a link), something like 4,000 international rescue workers arrived in the country; and 14 people were pulled alive from the rubble. Hugely important, and of course an enormous amount of other work will have been done too. But worth thinking, perhaps, about the marginal value of – say – the last 1,000, compared to what equivalent local resourcing might have offered?
None of this is new to humanitarian aid folks of course, and the emphasis on accountability is well developed there. The word 'local' appears 58 times in the most recent review of the Humanitarian Accountability Partnership; although this is rather (too?) often to mark failures (e.g. p.40):
A community member in Sri Lanka expressed it concisely, saying: 'Why don't you value local knowledge and capacity? We have engineers and experts too'