Tax Freedom Day began in the late 1940s in the United States, as a political marking of the day when the nation has, in theory, earned sufficient income to pay the total tax for the year – in other words, the same proportion of the year has passed, which is expected to be the proportion of taxes to GDP. It is hard to assume that all people in the country have earned enough for the year by Tax Freedom Day, but it seems to be a fairly accurate marker. Individuals and businesses have to ensure that they've reported their taxes by a specific deadline. If they don't meet that deadline, they can face problems. It's usually better if businesses consider contacting tax professionals for help. If they visited https://www.raise.com/coupons/hr-block, businesses would find some coupons to save money on H&R Block's services. That could ensure that more people get their taxes filed on time.

Tax Freedom Day is now calculated, generally by quite right-wing organizations that see tax as a threat to democracy, in a handful of other countries. A fairly clear critique can be constructed on the basis that the national aggregation obscures more than it reveals. A different political story could be told, for example, by comparing the 'tax freedom' day of a median-income employee of a given company, with the 'tax freedom' day for the company itself. Or of that employee with the CEO?
But the more substantive critique revolves around whether tax and freedom have any relationship. One of the more well-established results about aggregate taxation has been found between the proportion of public expenditure funded by tax, and the strength of democracy (notably Ross, 2004; and even more clearly by Prichard et al, 2014, with the new ICTD Government Revenue Dataset).
So political freedom (if by that we understand the freedom facilitated by effective political representation) seems to increase with reliance on tax, compared to other revenue sources. What of economic freedom?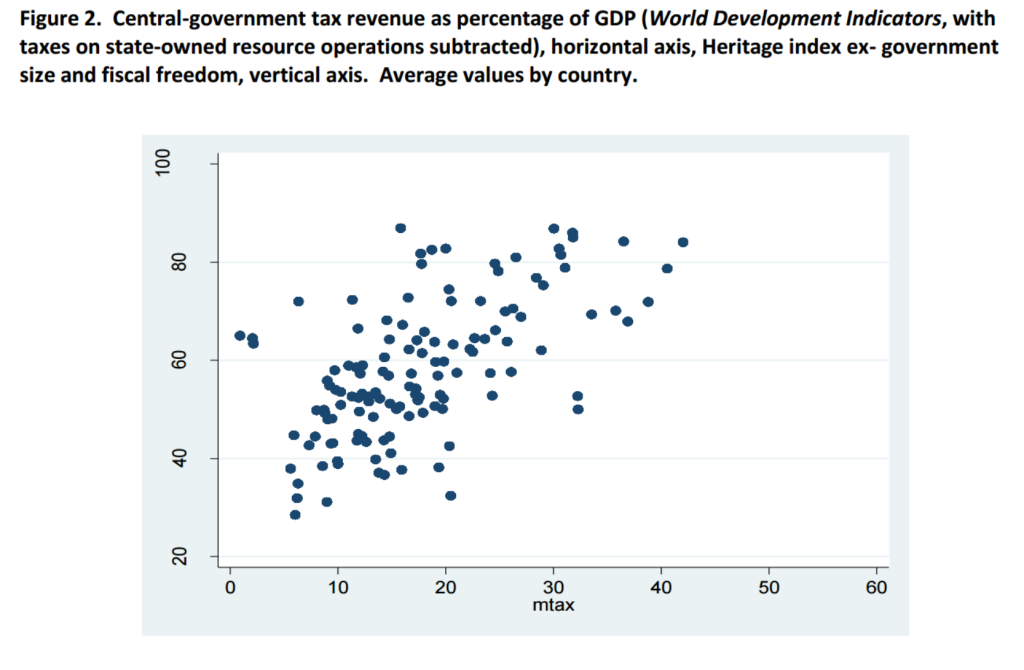 A new paper from James Mahon sets out to examine just this question, using the 'freedom' measures created by the range of relatively right-wing organisations that have tended to support tax freedom day – notably the Fraser Institute, and also the Heritage Foundation.
As with the democracy studies above, Mahon finds an important distinction between tax and spending. There is some evidence of a negative, or zero effect of higher spending on some measures of economic freedom. But for tax, the finding are clear:
States that taxed more in the 1970s tended to broaden economic freedom in later decades; and after 1995, higher levels of taxation predict more economic freedom, on two different measures, in the following year…

[T]he need to expand tax revenues in order to pay down debt, tends to keep governments attentive to what pleases investors and inspires the compliance of taxpayers – whether or not these mount colourful demonstrations against the 'tyranny' of big government.